To honor 'National Brownie Day' on December 8th, here's an amazingly delicious and super easy recipe.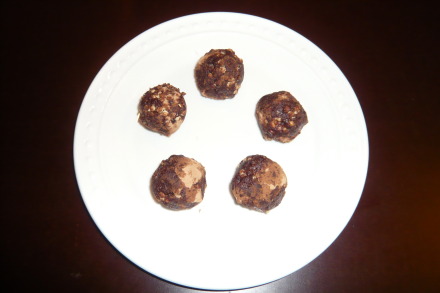 INGREDIENTS
        1½ cup raw walnut halves
        ¼ cup cacao powder
        1 tsp vanilla extract
        ¼ tsp fine sea salt
        1 cup soft Medjool dates, pitted (about 8-10)
        1 Tbsp water
        Additional cocoa powder, for coating (optional)
       3 Scoops  Whey Protein Pops
DIRECTIONS
In a large food processor fitted with an "S" blade, grind the walnuts into a fine meal.
Add in the rest of the ingredients, and process again until a sticky, uniform dough is formed.
Mix in Whey Protein Pops by hand, do not use the food processor!!
Scoop the batter by heaping tablespoons onto a plate or baking sheet lined with parchment paper to prevent sticking. Roll the balls between your hands, and roll them in cocoa powder, if desired.
Store the balls in the fridge or freezer, and serve them chilled for the most firm texture.