The first thing you need to do before starting your 2019 fitness program is measure your baseline.
Your baseline is the current state of your key performance indicators (KPI's) — the quantitative and qualitative results that link to your goals.
Without knowledge of all of your KPIs, you'll be missing critical data to know if your training plan is working for you in the ways that you want.
If you skip some baseline tests, you make it next to impossible to set the right training parameters for yourself from the outset.
And, you won't be able to identify the right adjustments that you need to make in order to develop — this is important to do as your body adapts to the training stimulus. Nor will you be able to recognize when to make those changes.
As you already know, if you're training right your program should stimulate change towards your desired results.
When you don't see progress, your sense of accomplishment falters. And your motivation dwindles.
You can learn how to avoid the mistake many athletes make in their attempt to improve strength, power, and speed.
Here are examples of results that most athletes want and the corresponding KPI's to keep track of.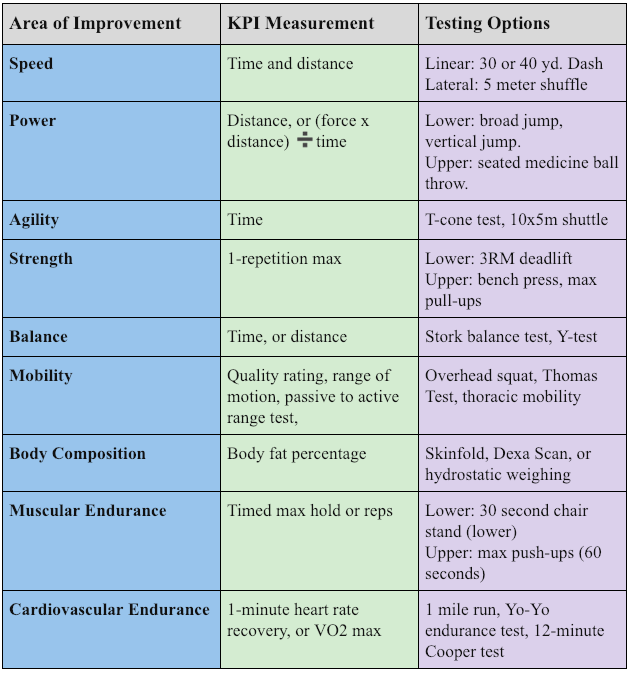 As part of your prep for the year ahead, make sure to measure at least 2-3 baseline KPI's. Then, schedule regular reassessments every four-to-six weeks for the remainder of the year.

This approach will help you to measure your progress in each chosen area and make the right adjustments to your program to enhance your results. And stay motivated in the process to reach your goals.

Wishing you all the success you deserve in 2019.

And as always, stay athletic.

Your coach,

Adam