Imagine trying to play basketball wearing ice skates. How about running a marathon in high heels. And ice skating in flip-flops.
Those funny and outrageous images would be an utter disaster if ever attempted.
Comedy aside, the likelihood of any of these scenarios happening is nil. Because no athlete who wants to excel in these sports would wear the wrong footwear on purpose.
Yet everyday, I see people weightlifting while wearing shoes made for running.
Are you one of them?
True, it's not as drastic as the previous examples. But the point is the same.
Wearing running shoes for weightlifting is counterproductive. They limit your potential and increase your injury risk.
And your goals are far too important for you to jeopardize them because of the wrong shoe.
My guess is that you didn't know what you didn't know. Most people don't. And you'll never realize the difference until you change your shoe for the better.
For general strength training purposes, a minimal "barefoot" shoe is my go-to.
This is because it has the following four qualities:
Zero heel-to-toe drop
This promotes proper posture and vertical alignment, and more even weight distribution on your feet.
No arch support
This provides the perfect environment for your foot muscles to stay active instead of relying on the shoe to do some of the work.
Very little cushioning & a thin sole
This allows the proprioceptors (sensory receptors) on the bottom of your foot to pick up vibrations from the ground. The thin layer supports a clearer and faster signal for your brain to engage the right muscles at the right time. You'll find more about this in my previous message here.
Thicker soles and cushioning prevent you from feeling the heel pressure. And you need this connection to have good recruitment of your glutes in lower body exercises.
Roomy toe box width and height
While this is not standard on all minimal shoes, it is something to look for. The space for your toes to spread comfortably will help the function of your foot when you lift.
Also, the height of the toe box shouldn't force your toes into an extended position. As they need to be able to connect to the ground for full engagement.
Together these four qualities create the foundation for a good weight training shoe.
Here's a list of suggested shoes that may be a good fit for you:
They are a basic and inexpensive shoe. But a word of caution…they do breakdown somewhat quick.
Innov8 Bare XF 210 V2 or Merrell Vapor Glove 3
These are two premium choices with higher quality materials. Either is a good investment in your peace of mind and fitness goals.
This is what I've been wearing for several years. And I love them.
Most people can't handle how "funny" they look compared to traditional shoes. And there's the extra 30 seconds it takes to get your toes in.
But if you're bold enough, go for it. It's the closest thing to being barefoot and still allowable footwear in any gym.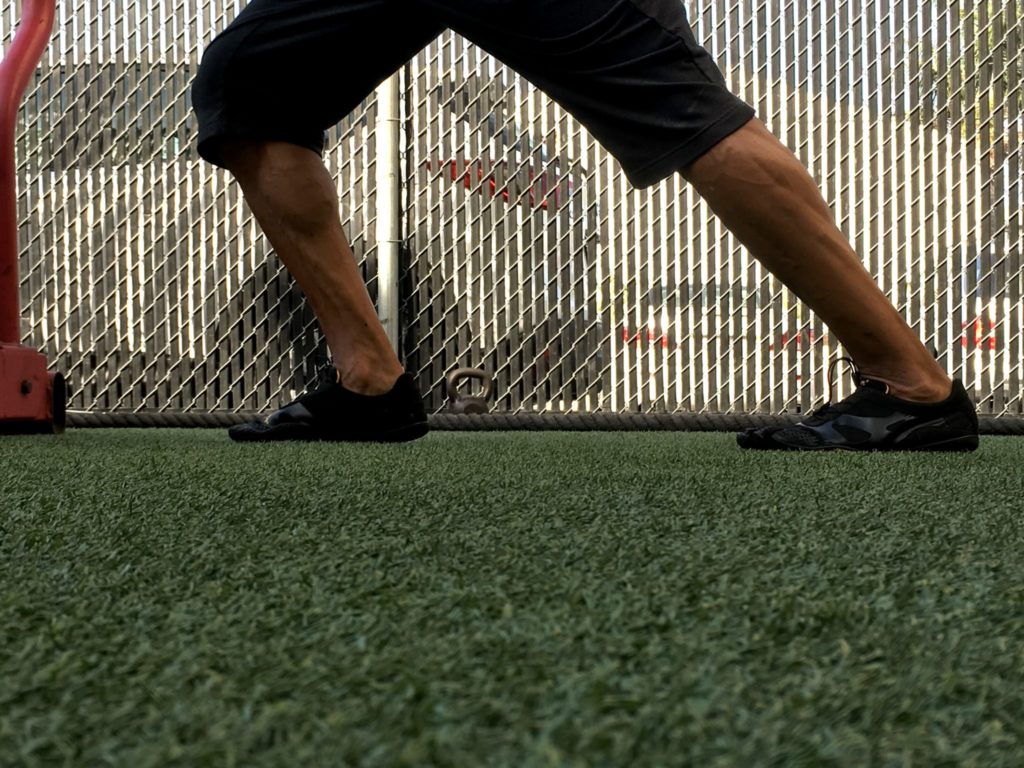 Okay. So you have some good information to start to work from. But we're not finished yet.
That's because the right criteria are dependent on your foot type and injury history. So we'll cover that in next week's message.
Until then, make some space in your gym bag for a couple pairs of shoes to keep your feet fitted for your activity. And subscribe to my YouTube channel to get the exercises you need for your best workout.
Your coach,
Adam