I've always had a weakness for blueberry muffins ever since I was a kid.  Finally, I can eat them again…guilt free because this recipe is as healthy as can be, and tastes out of this world!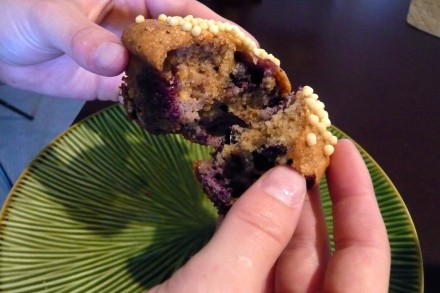 In addition, this Paleo muffin is made with all gluten free ingredients, healthy natural fats, and is balanced with Whey Protein Pops!
INGREDIENTS
1 cup almond butter
1 cup almond flour
3 eggs
½ cup raw honey
1/3 cup unsweetened shredded coconut
1/3 cup coconut oil, melted
½ tsp. baking soda
½ tsp. baking powder
¼ tsp. sea salt
Pinch of cinnamon
1 cup fresh blueberries
3 scoops of Advanced Athletics Whey Protein Pops
DIRECTIONS
Preheat oven to 350.
Mix almond flour, coconut, baking soda, baking powder, 2 scoops of Protein Pops, salt and cinnamon together. Then add the rest of the ingredients and mix well.
Pour into 10-12 muffin cups. Once batter is poured in, sprinkle last scoop of Protein Pops on top.
Bake for 15-20 minutes or until toothpick comes out clean.