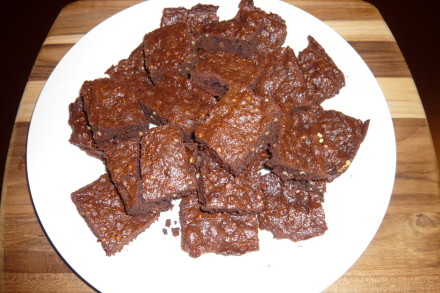 Duncan Hines Brownies were the staple dessert growing up, and I never grew tired of them as a kid.
However, since I've made the adult decision to eliminate gluten, processed sugar and grains from my diet, brownies were no longer an option…up until now.
Protein Brownies
This Paleo Brownie with Pops has all deliciousness of traditional brownies, but now with complete protein, and with none of the junk!
INGREDIENTS
1 cup almond flour
¼ tsp salt
¼ tsp baking soda
4 oz. cacao baking chocolate
7 dates pitted
3 large eggs
½ cup coconut oil, melted
½ tsp vanilla stevia
3 scoops of Advanced Athletics Whey Protein Pops
DIRECTIONS
Preheat oven to 350 degrees.
Use food processor to mix almond flour, salt and baking soda. Add squares of cacao and pulse until texture is similar to coarse sand.
Pulse in dates, followed by eggs.
Pulse in coconut oil and stevia until mixture is smooth.
Pour half of the mixture into a non-stick 8×8 baking pan. Sprinkle 2 scoops of Protein Pops onto batter and then pour remaining batter over the top.
Use spatula to smooth mixture out.
Sprinkle Protein Pops on top.
Bake for 18-22 minutes. Let brownies cool completely before serving.
*makes about 16 brownies