If you like to spoil yourself and all your friends, then these Raw Cacao Bites will do the trick!  Theses treats don't just taste incredible, but they're also nutrient dense with superfood ingredients, including Whey Protein Pops!
*This recipe was shared by James Arena, who's a Gold's Gym, Venice member who loves the Whey Protein Pops.
Ingredients
8oz. RAW cacao powder
1/2 cup Local Bee Pollen
3/4 cup Raw Hemp Hulled Seeds
1/2 cup Coconut Crystals (sweet resin)
1/2 teaspoon LO HAN GUO Chinese herb sweetener.
1 cup Whey Protein Pops
1 cup Coconut Oil (soft or melted)
1/2 cup Cacao Butter
Directions
Melt the coconut oil and cocoa butter on very low heat in a small flat pan.
Mix all ingredients together, except the Whey Protein Pops, in a bowl with a whisk or mixer until thick.
Fold in the Whey Protein Pops with a spoon.
Pour the mixture into flat baking pan.
Refrigerate until hardened and serve cool.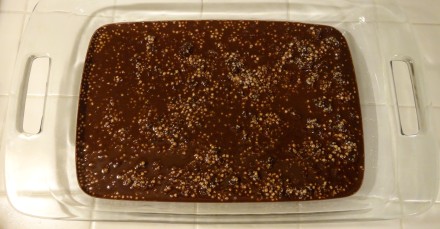 Keep it in the fridge and enjoy!  It's delicious!