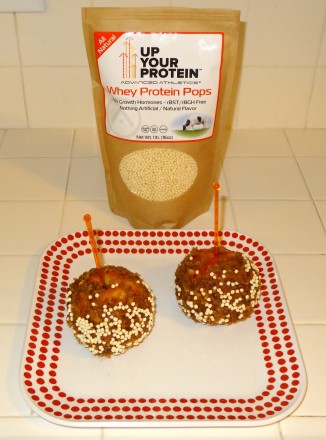 For your next autumn festivity, try this Paleo Caramel Apple recipe.  It's sure to be a hit for kids of all ages!
Protein Bonus
The addition of the Whey Protein Pops is like the cherry on top of a sundae.  It not only adds fun to the aesthetics, but it also will help to offset some of the carbs from the apple and the glaze. Hope you get to enjoy this healthy recipe in the company with your family and friends!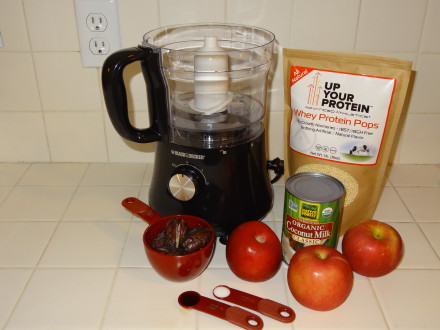 INGREDIENTS:
1 cup Medjool Dates, pitted (about 8-10)
2 Tbsp Full-Fat canned Coconut Milk
¼ tsp Sea Salt
½ tsp Pure Vanilla Extract
2-3 apples- (sweet kind, I used fuji)
1 scoop Whey Protein Pops
DIRECTIONS:
Combine all ingredients in the bowl of a food processor and process until smooth.
You may need to occasionally scrape down the sides.
Stick a popsicle stick about 2 inches deep into the top of each apple. Get a cookie sheet and lay either freezer or wax paper down on the bottom of the cookie sheet.
Spread caramel evenly around the outside of your apple.
Sprinkle Whey Pops on top of caramel.
Set caramel apples on cookie sheet so that the popsicle stick is straight in the air.
*Extra caramel can be stored in an airtight container in the refrigerator for up to 2 weeks.