Minutes to Prepare: 10 minutes
Minutes to Cook: 0 minutes
Number of Servings: 8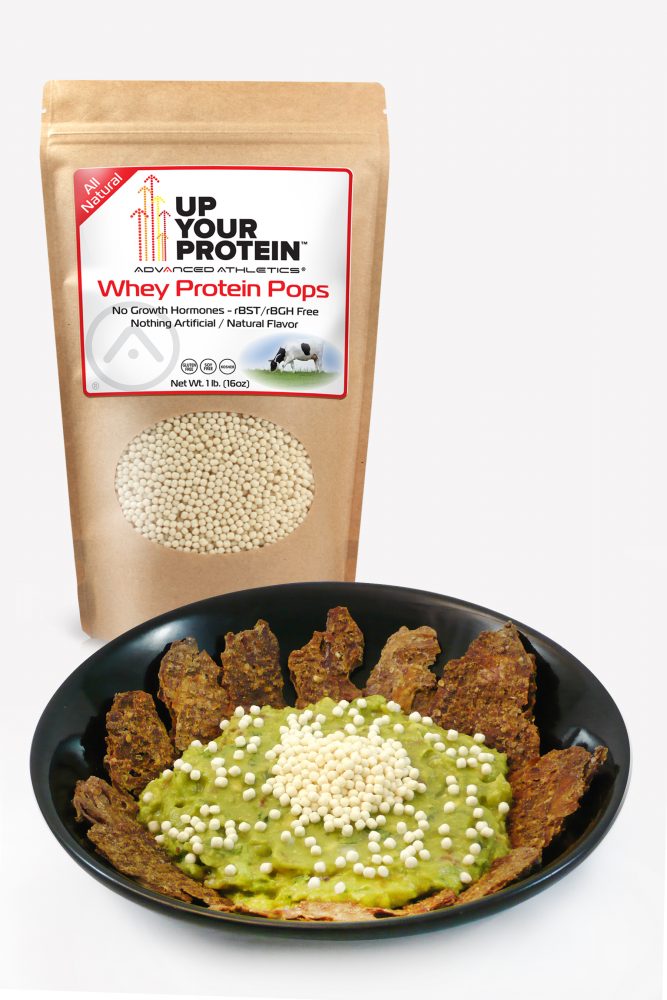 Ingredients:
2 Haas avocados
2 tspn. fresh organic lemon or lime juice
1 ripe Roma tomato, seeded, diced
¼ small sweet white onion, minced
1 garlic clove, minced
1 serrano pepper, seeded if desired, diced
Cilantro, chopped, optional
1/8 tspn of Pink Salt or Celtic Sea Salt
1/8 tspn of black pepper
1 scoop of Whey Protein Pops
Tips:
If you desire corn chips, make sure they are certified Non-GMO.
If you want to go grain-free, then use fresh vegetables, toasted Paleo Bread, or dehydrated vegetable chips, like the onion chips in the picture.
Preparation:
Start with 1 ripe, Haas Avocado mashed to a chunky consistency in a bowl.
Take 1 additional Hass Avocado and dice it: set it aside.
Gently stir in the lemon juice.
Mix in onion, tomatoes and peppers. (Cilantro is optional)
Add salt and pepper to taste
Gently stir in the diced avocado in the mixture
Top with Whey Protein Pops
Serve with veggies and chips, and enjoy with friends!