I'm finally giving into the demand by my clients, and sharing my recipe for one of my favorite snack treats of all time!
At the beginning of every week, I prepare four servings all at once, using the Vitamix.  You'll probably think I'm a little over the top with all the ingredients, but it's totally worth it to me.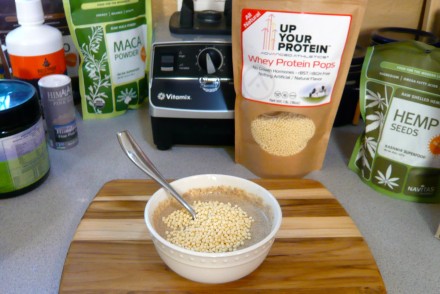 Servings: 4
Ingredients
5 cups organic Unsweetened Almond Milk
1/2 cup Organic Coconut Flour
1/4 cup Organic Hemp Hearts
1/2 cup Organic Chia Seeds
2 tablespoons Organic Maca Powder
10 Organic Cacao Beans
3 tablespoons Organic Sunflower Seed Butter
3 tablespoons Bulletproof Upgraded Brain Octane Oil
1 tablespoon Organic Vanilla Extract
1/8 teaspoon Himalayan Pink Salt
4 scoops Chocolate Grass Fed Whey Protein Concentrate Powder
4 scoops Whey Protein Pops
Directions
Use a high speed blender to mix all of the ingredients except for the Whey Protein Powder and Pops.  Blend until a pudding texture is achieved.
Pour 1 serving into a bowl, and stir in the chocolate whey protein powder.
Top the pudding with Whey Protein Pops.
Enjoy as a snack or a meal.